December 4, 2004
Written by C.N.
Orignally posted Oct. 2003
David Chang, a Chinese American entrepreneur, had an idea that he could create a version of the classic board game Monopoly, except his version is centered on an inner-city ghetto theme and features caricatures of Blacks holding sub-machine guns, bottles of malt liquor, crack houses, prostitutes, etc. Needless to say, his idea of "fun and games" touched off an overwhelming torrent of criticism and charges of racism.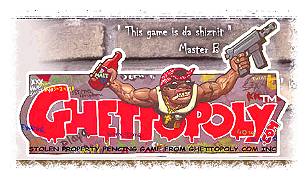 After being bombarded by protests, Urban Outfitters, eBay, and Yahoo! recently decided to pull the game from their shelves and sites. Recently, Hasbro (the company who makes the original Monopoly) filed suit against David Chang for copyright and trademark infringement.
David Chang claims to be completely surprised by all the criticism and says that he is trying to unite racial/ethnic groups together in laughter while exercising his rights to free speech at the same time. Unfortunately, he apparently doesn't understand that in the same way that he can express his views, we also have the right to tell him what a dumb ass ignorant idiot he is.
It's been gratifying to see that people, groups, and organizations of all races and ethnicities have united to condemn this game and its reinforcement and perpetuation of demeaning stereotypes. This collective outrage also shows that just because one Asian American does something wrong and stupid does not mean that our entire community is somehow behind it and should be blamed for his actions, a lesson that a Black radio show host learned recently after telling her listeners to call in with demeaning racial slurs for Asians in support of her idea for a "Chinkopoly" game as a protest response to Ghettopoly. Fortunately, she apologized soon after making those comments.
The lessons here are: (1) being Asian American does not give you the right to demean and slander other groups of color and, (2) the acts of one person should not be blamed on an entire community.

Author Citation
Copyright © 2001- by C.N. Le. Some rights reserved.
Suggested reference: Le, C.N. . ""Ghettopoly" Creates a Storm of Controversy" Asian-Nation: The Landscape of Asian America. <http://www.asian-nation.org/headlines/2004/12/ghettopoly-creates-a-storm-of-controversy/> ().
Short URL: http://www.asian-nation.org/headlines/?p=20
Translate Into Another Language