December 4, 2004
Written by C.N.
Originally posted February 2002
The 2002 Salt Lake City Olympics inspired and united the country behind such American athletes as Apolo Ohno and Michelle Kwan, as the U.S. team earned almost three times as many medals as they've ever won in a single Winter Olympics. But as usual, the games couldn't escape controversy. From my perspective, the two incidents that affected Asian Americans the most didn't even occur in competition. Rather it was the reaction of others to these incidents that raised my ire.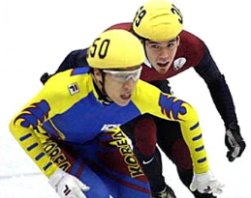 Let's first talk about the Ohno incident in which he tangled with his archrival Kim Dong-Sung of South Korea in the 1,000 meter final race. After crossing the finish line second to Kim, Ohno was awarded the gold medal after the judges disqualified Kim for illegally blocking Ohno. Predictably, South Koreans were outraged and that was not surprising. The problem was how Jay Leno of the Tonight Show tried to joke about it: "Kim was so angry that he went home, kicked his dog, and then ate him."
This unfortunate attempt at humor immediately angered many Asian Americans and rightly so. As Karen Narasaki of the Asian Pacific American Media Coalition explained it, context is everything. It's true that some South Koreans eat dog meat just like it's true that some African Americans eat watermelons and fried chicken.
But Leno wouldn't dare make a joke about the latter but thinks it's fine to offend Asian Americans. To Leno's credit, although he didn't officially "apologize," he later expressed regret about his comments. But the question remains, why do public personalities continue think it's no big deal to insult and offend Asian Americans when, if they said the same thing about Blacks, they would probably lose their jobs in an instant?
The second incident involved Michelle Kwan's quest for her first hold medal, finally settling for third after Sarah Hughes won the gold. Again, the controversy wasn't with any of the actual participants but with those reporting it. For the second Olympics in a row, a media outlet printed a headline that read, "American beats out Kwan for the gold," the implication being that Michelle Kwan was not 'American.' In the Nagano games of 1998, MSNBC was the culprit and this time, it was the Seattle Times.
Again to their credit, the Times, like MSNBC before them, apologized for their hasty and unfortunate choice of words. But again, it's yet another example of how Asian Americans are continually stereotyped as being perpetual foreigners. What more do we have to do to show people that we're American too?!?

Author Citation
Copyright © 2001- by C.N. Le. Some rights reserved.
Suggested reference: Le, C.N. . "Controversy Again at the Olympics" Asian-Nation: The Landscape of Asian America. <http://www.asian-nation.org/headlines/2004/12/controversy-again-at-the-olympics/> ().
Short URL: http://www.asian-nation.org/headlines/?p=7
Translate Into Another Language