December 4, 2004
Written by C.N.
Orignally posted Aug. 2004
Michelle Malkin is a ultra conservative Filipino American commentator and writer who, among other things, has just written a book entitled "In Defense of Internment: The Case for 'Racial Profiling' in World War II and the War on Terror." In it, she claims that there was enough information about attempts by the Japanese government to establish a spy network in the U.S. prior to the U.S. entering World War II to justify the eventual internment of 120,000 Japanese Americans.
The Japanese American Citizens League has just released a statement in regard to Malkin's book which pretty sums it all up for me: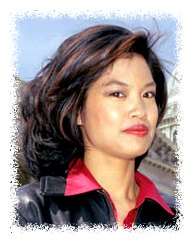 The Magic cables were reviewed by the Commission on Wartime Relocation and Internment of Civilians, a fact-finding commission created by the President and Congress in 1980. Following a thorough examination, the commission found no evidence connecting the decision to intern Japanese Americans to any of the information contained in the cables. Furthermore, a finding in the commission report, Personal Justice Denied, stated that "not a single documented act of espionage, sabotage or fifth column activity on the mainland was committed by an American citizen of Japanese ancestry or by a resident Japanese alien on the West Coast," a view consistently substantiated by independent scholars and researchers for almost half a century since World War II.

In writing the book, Malkin states that her purpose is to debunk the internment as "racist" and "unjustified." By her own admission, Malkin makes no claim to expertise on the subject, admits that her work is not thorough, fashions conclusions to suit her political views, all the while asking her readers to "reject political correctness… and the ability to view the writing of history as something other than a therapeutic indulgence," a criticism that fails to escape her own work.
It would be easy for me to denounce Malkin and label her a "sellout," "whitewashed," and/or "brainwashed." Rather, I am left to wonder how anyone, in the face of overwhelming evidence to the contrary, can still claim that the imprisonment of Japanese Americans during World War II was anything but a kneejerk reaction, rooted solely in war hysteria, and led by a few zealots with personal vendettas? Hmmm, come to think of it, some people might describe the war in Iraq in similar terms . . .

Author Citation
Copyright © 2001- by C.N. Le. Some rights reserved.
Suggested reference: Le, C.N. . "Can Ignorance be More Blatant?" Asian-Nation: The Landscape of Asian America. <http://www.asian-nation.org/headlines/2004/12/can-ignorance-be-more-blatant/> ().
Short URL: http://www.asian-nation.org/headlines/?p=30
Translate Into Another Language