December 4, 2004
Written by C.N.
Originally posted Jan 2003
As many of us within the Asian American community and communities of color in general have suspected all along, President Bush has publicly stated his opposition to the University of Michigan's affirmative action program, which is currently being reviewed by the U.S. Supreme Court. In this program, UMichigan assigns certain points to different criteria that if they add up to 100 points, assures the applicant of admission. For example, getting a perfect SAT score is worth 20 points, having a 4.0 GPA is worth 60 points, and in this case, being an underrepresented minority group member (Black or Hispanic/Latino) earns the applicant 20 points.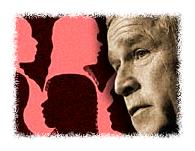 As I've stated already, I wholeheartedly support affirmative action. I feel that it provides access to underrepresented group members who otherwise may not have access to certain opportunities, because of the institutional and historical mechanism of racism and discrimination. I'm not going to get into a long discussion about the merits of affirmative action here, but I will say that I think this is just the beginning of the Bush administration's plan to demolish affirmative action and most civil rights legislation that are currently on the books.
As Bush and his 'enforcer' John Ashcroft have already demonstrated with their attack on individual liberties, privacy, and due process under the law, this administration priorities are to serve conservative and corporate interests, plain and simple. The political and social interests of most racial/ethnic minorities will always lose in this battle, as long as Bush remains in power.

Author Citation
Copyright © 2001- by C.N. Le. Some rights reserved.
Suggested reference: Le, C.N. . "Bush's True Colors" Asian-Nation: The Landscape of Asian America. <http://www.asian-nation.org/headlines/2004/12/bushs-true-colors/> ().
Short URL: http://www.asian-nation.org/headlines/?p=11
Translate Into Another Language