December 4, 2004
Written by C.N.
Originally posted September 2003
Earlier this summer, Fox premiered the show Banzai!, which they described as an irreverent parody of Japanese game shows. Originally a British series, Banzai! was meant to appeal to a young audience, including Asian Americans. The problem was, many Asian Americans didn't find it funny at all. Rather, they saw it as another media perpetuation of the stereotype of Asians as nerds, geeks, and even perverts.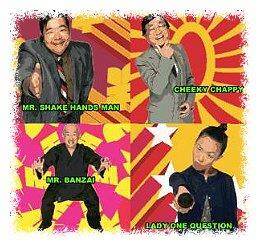 In addition to protesting straight to Fox, groups like Media Action Network for Asian Americans started putting pressure on advertisers who ran commercials during Banzai!, urging them to pull their advertising from the show, unless they wanted to face the possibility of being boycotted by the Asian American community. A couple of weeks ago, Fox cancelled Banzai!, although they did not mention exactly why they decided to do so.
I personally never watched an entire Banzai! show in its entirety but I saw enough to conclude that this was pretty weak humor at best and at worst, a serious example of racial insensitivity or even blatant prejudice toward Asian Americans. However, what really encouraged me about this whole Banzai! incident was that it again showed that when united around a single cause, Asian Americans can make a difference. If we all speak loud enough and as one voice, people are bound to hear us and if we keep it up, they will not be able to ignore us.

Author Citation
Copyright © 2001- by C.N. Le. Some rights reserved.
Suggested reference: Le, C.N. . "Asians Go Banzai Over Fox's Attempt at Humor" Asian-Nation: The Landscape of Asian America. <http://www.asian-nation.org/headlines/2004/12/asians-go-banzai-over-foxs-attempt-at-humor/> ().
Short URL: http://www.asian-nation.org/headlines/?p=17
Translate Into Another Language